Whootz. >D So yeah, first day off, and I woke up supppperrr late. Like omfgwtf. =w=
(11 AM anyone? OTL)
Anywhoots, after washing the dishes and cooking, I'm now playing...
TETRISUUUU. 8D
Yeah, oh ode to dramatic.
That makes no sense, but whatever. 8D
Anyways, I thought to take a few pictures.
But I didn't know what to take pictures of,
so here... = w =
Let my immaturity burn you.
Yeahh, easy stuff, so I finished early.
People were asking me what セックス was.
And they didn't believe me when I told them. 8D;;
So when sensei confirmed, they were all like, spazzing.
HURRAY FOR CLASS OF IMMATURE SOPHOMORES. -shot-
&& yeah, I was writing really fast. Hence,
my retarded handwriting
.
OTL
Oh iesu. :3
Hannah
and
I
are cool. x'D
She drew that
motherfreaking sexy manry beast at the top.
&& I drew the messed up cat chibi. x'D;; I fail. OTL
Anyways, YEAH. I have a preview of the
From Y to Y
chorus I started. 8D
The vocals right now are just me and Kei~
And as it says, it's JUST timing, and gverb on some parts. :3
I do the final mixing when I have all vocals~
From Y to Y Chorus Preview~
Anyways, I'm off now~
Let's see if I can finish Corruption Garden or Eternal Love today. 8D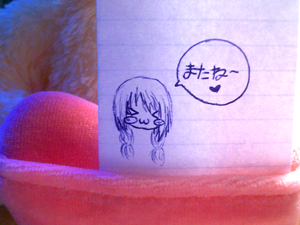 trackbackURL:http://undecidable.blog132.fc2.com/tb.php/3-31490577