RAWR.
Haven't seen my in a while, huh? 8D
Yeah, I've been on Skype, but very ninja. Ohoho~
Anyways, Kureshi's birthday passed~ >W<
She's 19 now, you guys. :'3
My waifu's growing up~
/shot
Anyways, here was our present for her~
http://www.youtube.com/watch?v=GKwc_hM_AWg
"Change Me"
Oh, she's changed us, alright. 8D
/shot again
Ahhhnnn, I've been getting sleepy much earlier now. D8
Like, 8 PM ish.
But I don't go to sleep early~
I don't have class work to do, since I finish it in class, but I have things to animate and mix.
I have seven choruses to animate, but luckily for me, most of them are still collecting vocals. The one I'm focusing on right now is one I organized myself; Hello/Hawayu.
Things I'll be animating;; Hello/Hawayu, Scissorhands, Mrs. Pumpkin's Comical Dream, From Y to Y, Lily Lily Burning Night, Sayonara Memories, && Sayonara Solitaire.
And then Seventh Echo has planned our newest song. >3
Hope you guys look forward to that~
Anywhoots, I'm about to pass out now.
Goodnight~ o w o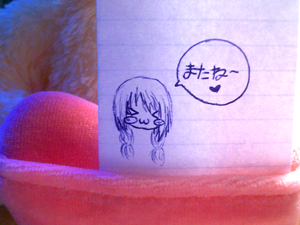 trackbackURL:http://undecidable.blog132.fc2.com/tb.php/5-6eb994b2